Many times people are shocked to find wineries here in Denver. They are curious to know if there are vineyards or where the grapes come from. More importantly people are often times curious about the urban wine making process.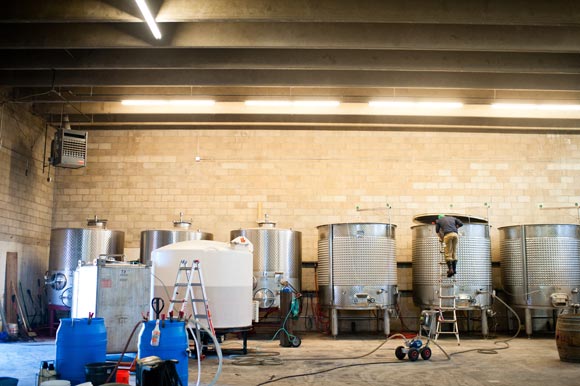 In a nutshell everything is crushed, aged and bottled here in Denver. Although, as we have often mentioned there are no vineyards here in Denver most of the grapes come from the Western Slope, Grand Junction and Palisade, CO. Harvest is not always good in this beautiful state so many times wineries bring in grapes from California. Ultimately for Denver and Colorado wine makers or vintners the goal is to make excellent hand-crafted wine. One of the most important variables if not the most important for producing high quality hand-crafted wine is getting the best quality grapes at the correct ripeness. Secondly, vintners consider the sugar or "brick" levels of the grape to determine what alcohol level the wine can produce.
The first step when getting grapes is to crush them and destem them. After that a vintner ferments the crushed grapes and once its done fermenting they use a presser to press out the juice grape. In Denver, some wineries press the wine into stainless steel tanks and other just put it directly into barrels and others do both. They leave the wine until all of the sediment falls to the bottom of their containers and at the same time it is going through a secondary fermentation to remove tannins or the "bite". This secondary fermentation accomplishes two things; first it clears the wine and second it smooths out the wine. This process takes two months. After that most Denver Colorado wineries let the wine sit for about 9 to 12 months or more, depending on the winery.
Most wines that are served and tasted at the wineries in Denver are relatively young. However, these wineries to sell library aged wines that could be 18 or more years old. The wine making process for each winery varies from vintner to vintner but each offers a delightfully tasty experience!