Mile High Wine Tours has taken it up itself to explore Denver's wineries for the past two years. It has been an extremely fun and insightful journey to find the best wine spots the Mile High City. Here is our humble list (in no particular order) of wineries that we have found to offer an exceptional wine experience.
---
Although Denver is not the best place to grow grapes Balistreri actually has a small vineyard in north Denver. This is a family owned and operated winery by the Balistreri family. Their main business was in the flower business but due to an influx of flowers coming into the market from South America, they turned to their other passion as a business, wine.
Since 1998 they have been producing wine "the old fashion way" as their grandparents from Italy used to make it. Their wines are not only some of the most award-winning wines in Colorado but are also produced without sulfites, filtering agents or clearing agents.
This winery is one of our favorites not only because of its delicious wine but also boasts an amazing Italian gourmet menu. The food is to die for. Balistreri Vineyards also boasts a very large and classy event space for weddings and corporate events.
The winery is located in an odd part of town but a visit to Balistreri winery is a must if you are in the Denver area.
---
The Infinite Monkey Theorem Winery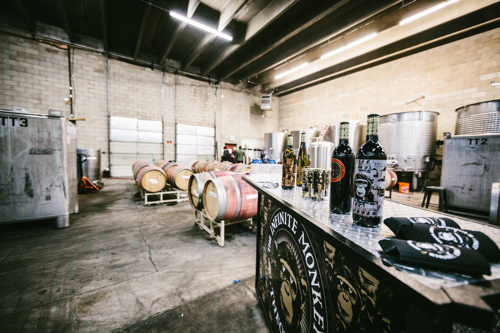 This winery sets itself apart for numerous things. First, their "100th Monkey" red wine, a blend of petite syrah, Petit Verdot, cabernet Franc, and Malbec, is  Colorado's highest-ranked wine in Colorado. Second, they are one of a handful of wineries in the United States to produce some of their wine in a can! Yes, that's right in a can! It's actually pretty delicious! Third, they are the first winery in Colorado to produce "Champagne" or sparkling wine in the traditional champagne method.
IMT (Infinite Monkey Theorem) winery started in very humble beginnings but since then has become the biggest winery in Colorado spreading its wings all the way to Austin and even landing deals with Frontier Airlines to carry their wine in a can.
Their tasting room has an almost hipster feel to it. It is not surprising since it's in one of the most hipster areas of Denver, the River North District.
---
Silver Vines winery is located in Olde Town Arvada, Colorado. They have a wide variety of award-winning wines ranging from Cabs, Primitivo, Syrah blends and some incredibly delicious dessert sweet wines. Their wine has some fantastic robust and hearty characteristics. Their Primitivo wine has won double gold at the Finger Lakes International Wine Competition.
This winery first opened its doors in 2011. It is owned and operated by Danny and Jeff Chayer. Two brothers had a passion for wine and decided to make Colorado home for their winery.
---
Winemaker and owner, Paul Bonacquisti, has created this charming winery in Denver's northwest Sunny Side neighborhood. Just like many of Denver's wineries, it is situated in an odd area of the city.
Their award-winning wines are perfect for those with a "seasoned" wine lover. Their best seller is Vinnie No Neck, named after Paul's son when he was a baby and had no neck as they put it.
This winery's feel is very comfortable and relaxed. They have live music every Friday and become a very lively winery!
---
Wild Women Wine Winery is the only winery right in the middle of downtown Denver. Due to its location and lack of space, they don't bring grapes and crush them like the other wineries do. Instead, they import the highest quality crushed juice from vineyards in the Central Valley, CA, and then handcraft their wine.
For those wine drinkers with a sweet tooth, this winery has some amazing sweet Moscato and other sweet wines. They also boast some incredible red blends.